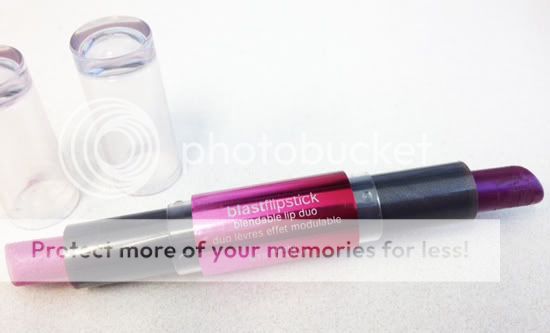 Since picking up the latest addition to my beauty stash--
CoverGirl Blast Flipstick
lip duo in Flashy--I've been a little short of obsessed with this product. Obviously it was a no-brainer purchase for me since I have
a love for fuchsia and purple lipsticks
, but the fact that I was getting two complimentary lip colors in one for $8 was the seal on the deal. I love 2-for-1 deals that make sense.
As soon as I checked out, I immediately ran to my car, savagely ripped off the packaging and applied the violet side and loved the richness and pigmentation of the creamy purple color. A little skeptical of the shimmery pink side of the stick (I'm not one for wearing anything shimmery on my pout), after applying it I can say that it was just the right amount of shimmer for me. And once I combined both I was further pleased with the product and loved my end result.
What I didn't like about it? The moisture level is not where I would like it to be, a little drying for my taste, but definitely not enough for me to throw it in my '
eh pile
' of make-up. But what makes up for the slightly drying factor was that it actually lasts pretty long. I think I'll add a few other Blast Flipstick shades to my beauty stash.