Now that the transition into fall is in full swing, it's time to fall in line. To get the season started, here are a few trends I'm considering as my must-haves. Stay tuned for more...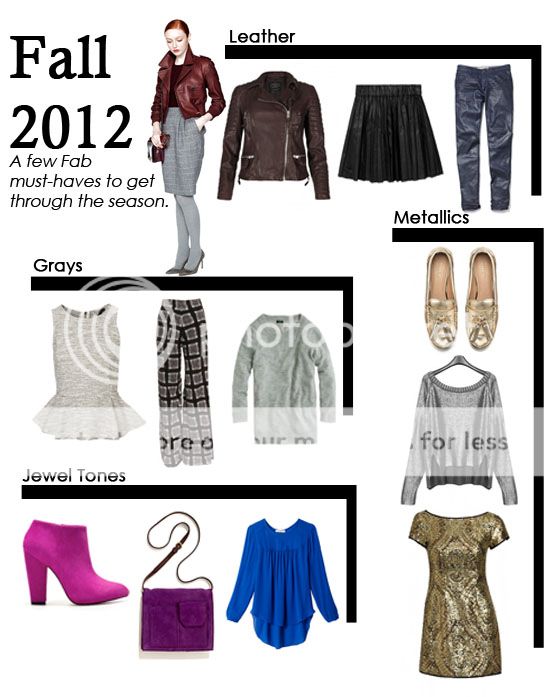 Leather:
For me, leather is that one texture that has a way of making you feel strong, edgy, sleek, polish and glam all at the same time. Besides being one of my favorite textiles of all time, leather makes it on my fall must-have list because of its versatility and ability to make any outfit look absolutely
Fab Chick Approved
!
Grays:
A great alternative to basic black, I love gray paired with many of this fall's rich colors like violet, deep red, emerald green, and brown. I'm all about being in the gray area this season—of color that is.
(shop the above: Topshop, Alice and Olivia, JCrew)
Jewel Tones:
Taking a break from the shock value of neon colors we all obsessed about this summer, still keeping it bold and fun, I'm looking to incorporate vibrant jewel tones to my fall wardrobe—less acid trip and more luxurious richness.
Metallic:
Even though I'm not a lover of science, for the last few seasons I've been having a lot of chemistry with all the precious metals of the periodic table—silver, copper, gold, you name it and I'm all about it for fall!
(shop the above: Coach, SheInside, Nanette Lepore
)